Filling a Need in Franklin Township
LOCAL MARKET
Located within Franklin Township, the Five Points Plaza development project is situated 12 miles southeast of downtown Indianapolis and approximately 20 miles from the Indianapolis International Airport.
As of December 2022, the closest home supply stores are Home Depot (2.8 miles away) and Menards (2.1 miles away). Because retail centers are limited to the east of the development site, it is anticipated that demand from residents living nearby and west of the center will be high.
Once completed:
the new neighborhood retail center will have 30,000 square feet of leasable space and be located adjacent to Franklin Point Shops.
homeowners living within a 1-mile radius to the newly constructed Ace Hardware will have added convenience and shorter drive times when seeking out home repair supplies.
DEMOGRAPHICS
Within a 3-mile radius of Five Points Plaza, the community consists of 20,701 households and a population of 54,496 people.
Median household income within a 3-mile radius is $90,683 and is forecasted to increase to $106,447 by 2027.*
Within the next five years, the population in this area is expected to increase by 3.2% making this development site an ideal location for a neighborhood retail center.
* source: Regis, flyover image from Google Earth
News About Five Points Plaza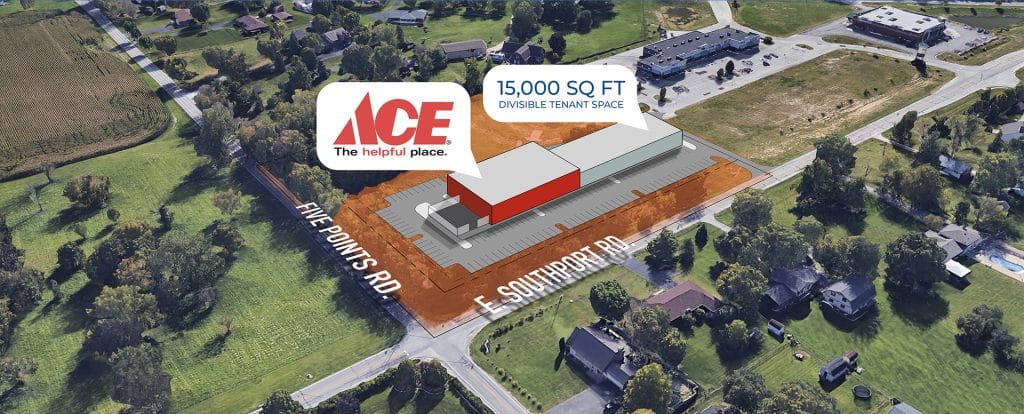 Speedway, IN – March 13th, 2023 KennMar is pleased to announce that it recently acquired 4.75 acres of land along the southwest corner of Five
Do you have questions? We might have the answer
Feel Free to Reach Out
If you would like to know more about our company, our team, our process, or anything else about KennMar, we would love the chance to talk to you and answer your question.
We invite you to use this form and get in touch with us.